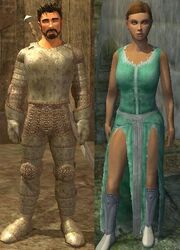 .
What does this information mean?
Attacks
[
]
Every 40-50 seconds he teleports himself to a target (temporarily de-aggroing the tank, but he will return) and unleashes an AOE, Blurring Blades. If you are clumped it will hit everyone around the target. The AOE has two ticks, so if you have a strong/fast healer you can heal through it on characters with decent HP.
The AOE after the port appears to be interruptable, if an interrupt is used immediately after the port. With a brigand, coercer, inquis, etc pelting him with interrupts it can interrupt the port or at least the AOE after the port.
If your scouts/casters use detaunts in this fight he will do extra teleports to that person making the fight much more difficult.

This need's confirmation, but last night on a run through Incursion, this namer CHARMED me. I have been through this zone a number of time's and last night was the first time I ever had a charm put on me by this name. not sure if it was a bugged zone , or if our DPS was to low. so be aware, this name has a chance to charm.
Strategy
[
]
Strategy with interrupts: Pull him into the room to the north from where you are pushed up, bunch together, and continually use interrupts to abort the teleport and/or AOE. Use AOE blockers periodically or when interrupts are down.
Alernate Strategy (few interrupts and/or weaker group): Run your group out into the open area, then spread them out so no 1 person is right next to any another. That way when he teleports to a target he only hits one person with an AoE. Two healers are recommended in case he chooses your healer to scrag. Keep whittling him away while the double healers resurrect everyone (and each other).