EverQuest 2 Quest Information
Journal Category
World Event
Journal Level
Scales with player level
Journal Difficulty
Solo
Starting Zone
Darklight Wood more
How to Start
Speak to Amber G'Ris in The Polished Shell in Hate's Envy ( -373, -82, 250 ) 

/waypoint -373, -82, 250
What does this information mean?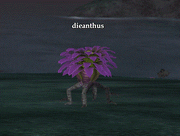 Gather dieanthus flower oil from dieanthus flowers in Timorous Deep around ( 2074, 52, 567 ) 

/waypoint 2074, 52, 567

(blue blob area on second island). Trackable (as 'dieanthus') with regular tracking (not harvest tracking).

These appear to be non-aggro and no level, but as you approach they will morph to match your level and attack.
Group-wide updates, NOT raid-wide.

Return to Amber G'Ris

For a laugh, search for Amber Gris (ambergris) on Wikipedia. Yeah, rub a little of that on yourself...
| | |
| --- | --- |
| | This article refers to events, personae, items and activities only present in-game during the annual Erollisi Day festivities, which come to Norrath each year for a short time roughly around February 14th. |
Community content is available under
CC-BY-SA
unless otherwise noted.