For other articles with related titles, see Xalgoz.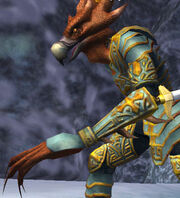 .
EverQuest II Named Monster Information
Zone (Patch)
Karnor's Castle (Rise of Kunark)
Race
Di'Zok
Level
76▲▲▲ Tier 8 Heroic , (Approx. HP: 240,000)
Location
In a circular room under the jail area ( -140, -90, -4 ) 

/waypoint -140, -90, -4

Reported Drops
Respawn Timer
30 minutes - 2 hours
Placeholder
a Mistmoore emissary
Related Quests
AA Exp
Yes
Status Points
none
What does this information mean?
You have to clear out his room first of everything. There are 3 big vats on the wall with orbs under them. When he gets low in heath they activate and heal him rather quickly. You have to keep one person near each one and click it to deactivate the healing. Note: it's possible to do solo and have your merc keep him company whilst you deactivate them.
Community content is available under
CC-BY-SA
unless otherwise noted.