EverQuest 2 Quest Information
Journal Category
Language  (AA)
Journal Level
45 (Tier 5)
Journal Difficulty
Solo
Starting Zone
see Starting the Quest below
How to Start
Examine a book in one of the starting cities as noted below.
NOTE: A discussion page exists which may contain more information
What does this information mean?
Starting the Quest
The starter for this quest exists in five separate locations:
Steps
After examining the quest starter, you must find four Druzaic Shrines in the Shattered Lands. Each shrine warps between locations in two different zones of the same tier, about once an hour. If a shrine can't be found in one zone of that tier, then it should be up in its counterpart zone. However, keep in mind that there is a delay between the shrine appearing in each of its warping locations. The delay seems to be anywhere from a few moments to up to 45 minutes in some cases.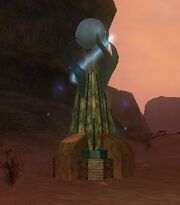 Shrines are found in the following locations:
Vul'Zet Druzaic Shrine (Tier 3)
Vul'Myr Druzaic Shrine (Tier 4)
Vul'Kab Druzaic Shrine (Tier 5)
Does not show up every day. May have to wait a game day or more for it to appear in either spot.
Rivervale ( -809, -5, -290 ) /waypoint -809, -5, -290  nighttime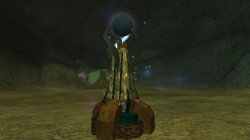 Vul'Uzu Druzaic Shrine (Tier 5)
Everfrost ( 503, -108, -1605 ) /waypoint 503, -108, -1605 
Lavastorm ( 86, -32, 139 ) /waypoint 86, -32, 139 
Reward
The ability to speak the Druzaic language