EverQuest 2 Quest Information
Journal Category
Language  (AA)
Journal Level
45 (Tier 5)
Journal Difficulty
Solo
Starting Zone
see Starting the Quest below
How to Start
Examine a book in one of the starting cities as noted below.
NOTE: A discussion page exists which may contain more information
What does this information mean?
Starting the Quest
Edit
The starter for this quest exists in five separate locations: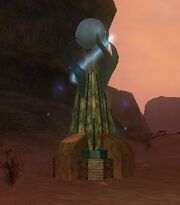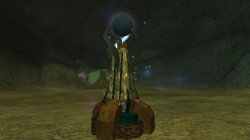 After examining the quest starter, you must find four Druzaic Shrines in the Shattered Lands.

Note:Each shrine can spawn in two different zones, about once an hour. they can be up in both zones or not at all(Also, in one zone and not in the other). However, keep in mind that there is a delay between the shrine appearing in each of its locations. The delay seems to be anywhere from a few moments to up to 45 minutes in some cases.
Vul'Zet Druzaic Shrine (Tier 3)

The Thundering Steppes ( 970, -22, 1184 ) 

/waypoint 970, -21.77, 1184

 , on the coastline next to the earth rumblers, near the giant camps.
Nektulos Forest ( -1605, 48, -1347 ) 

/waypoint -1605, 48, -1347

 , East of Dragoon K'naae.

Vul'Myr Druzaic Shrine (Tier 4)

Enchanted Lands ( -984, -2, -619 ) 

/waypoint -984, -2, -619

 , on the Isle of the Three Pines (with Nightblood General Bloodburn) in the northeast corner of the zone.
Zek, the Orcish Wastes ( 14, -39, -866 ) 

/waypoint 14, -39, -866

 ), behind Deathfist Citadel. (Although, you should proceed with caution if Grumzod the Exile, epic x2, is spawned in the area.)

Vul'Kab Druzaic Shrine (Tier 5)

Rivervale ( -809, -5, -290 ) 

/waypoint -809, -5, -290

  , near The House of Circles, behind Rukir Pineleaf's house.
The Feerrott ( -1094, 0, 913 ) 

/waypoint -1094, 0, 913

 , In a cave next to the Gulch of Thule. Head East from the Druid Rings.

Vul'Uzu Druzaic Shrine (Tier 5)

Everfrost ( 503, -108, -1605 ) 

/waypoint 503, -108, -1605

 , past the entrance to Permafrost, underwater and west of where Master Webclaw spawns. (Due north of the Spires)
Lavastorm ( 86, -32, 139 ) 

/waypoint 86, -32, 139

 , Southwest of the lower Dragon's Breath Tunnel entrance (which takes you up to Solusek's Eye. The Shrine is in the Vulcanu Slayer valley just beyond the tunnel's entrance. It's dark, so you can miss it.
The ability to speak the Druzaic language
Community content is available under
CC-BY-SA
unless otherwise noted.