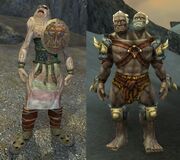 .
What does this information mean?
Scripted to teleport back to the center of the room & use his anti-life beam every 25% damage (75, 50, 25). His anti-life beam attack will start facing due North & rotate around the room in a counter-clockwise rotation but the player-group is presented with 4 low health icewalls which must be destroyed before the player-group can progress.
After the player-group has returned to their original location & upon completion of the scripted event, Witch Doctor Vuh'Duh will teleport himself back to his location at the beginning of the fight & cast a disease-based DOT (Wandering Plague of Siphoning) on the entire group which must be cured immediately or the group will be killed. This detriment can also be cured with potions.
Community content is available under
CC-BY-SA
unless otherwise noted.