In-Game Examine Window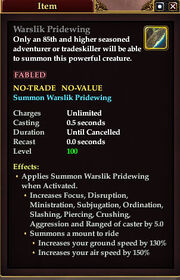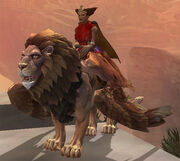 Warslik Pridewing
Only an 85th and higher seasoned adventurer or tradeskiller will be able to summon this patchwork steed.


FABLED
NO-TRADE,  NO-VALUE
Summon Warslik Pridewing
 
Charges
Unlimited
Slot
Charm (Optional)
Level
85 (Tier 9)
 
Effects:


Applies Summon Warslik Pridewing when Activated.

Increases Focus, Slashing, Ministration, Aggression and Piercing of caster by 5.0
Summons a mount to ride.

Increases your ground speed by 130%
Increases your air speed by 150%

Increases Disruption, Crushing, Ranged, Subjugation and Ordination of caster by 5.0.
Obtain: One of many rewards that can be "bought" for 0 copper from Pas Yu after completing Days of Summer 2017: Week 9
What does this information mean?
Only a level 100 season adventurer can see and purchase this item from Yun Zi if they have completed The "Travels" of Yun Zi - An Altar-Nate Malice.
Community content is available under
CC-BY-SA
unless otherwise noted.