The Item, Location, Quest, Mob or NPC referred to by this page has been removed from EverQuest II.
This article is being retained for historical reasons
Removed during LU56
What does this information mean?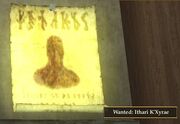 Kill Ithari K'Xyrae

Ithari can be found wandering around in the mines on the east side of the town ( -509, -53, 370 ) 

/waypoint -509, -53, 370

. He is a very fast respawn.

Take her head to Mayor Sselnyl Do'Zyth
At least

65c

One of the following:
Community content is available under
CC-BY-SA
unless otherwise noted.