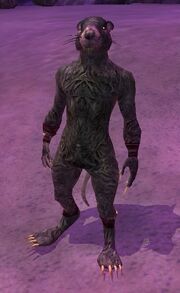 .
What does this information mean?
Has a huge AoE knockback he loves to spam. Tends to do so when getting up from being knocked down himself. If you try to pull him back to the wall where you climbed down into the Caertaxian wing at the start in order to fight him somewhere enclosed, he won't follow all the way. A safer spot to fight him can be reached by climbing up and over the square raised structure that's to his right, where the Paranoid Backstabbers are running around. Climb up there, kill the Backstabbers, and you can drop down in a small nook to his right. Clear the trash, keep your back to the wall, pull, kill, loot.
You can also fight him by backing the tank against the wall on the corridor which leads to him. Jam yourself under the ledge so his knockback cannot throw you into the air. The healers and dps can do the same thing on the opposide side of the corridor.
Community content is available under
CC-BY-SA
unless otherwise noted.