Vesspyr Isles is not "adjacent" to any zone, but it can be accessed via any druid ring or via the Dragon Ring in Great Divide.
Geography
Edit
Floating Islands similar to The Barren Sky but with different layout
To travel to the Vesspyr Isles, use any Druid Ring. If you or one of you guild mates has a Vesspyr Isles Whisper Column it can be used for fast travel from a home or guild hall.
There is no internal, automatic travel system in the zone at this time. Use your flying mount to travel between islands. The flying shinies that float in the air between islands give you 450% speed boost. The black clouds give you a speed boost if your speed is not already boosted, but if it is boosted they slow you down to your normal flight speed.
Heroic loot Merchant
Edit
Pinch Aggregate at ( -219, 217, 129 ) /waypoint -219, 217, 129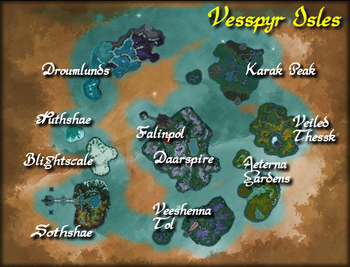 Dungeons
Edit
Adjacent Zones
Edit
Revive Locations
Edit
| Revive Location | Description |
| --- | --- |
Similar Zones
Edit
| Zone Name | Level Range | Region | Notes |
| --- | --- | --- | --- |
Community content is available under
CC-BY-SA
unless otherwise noted.