You may upload a JPG or PNG image of the in-game examine window.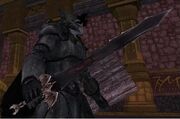 Vel'Arek

FABLED
LORE,  NO-TRADE

30 Primary Attributes

32 sta




+180 health

+150 power


4 Offensive Skills
4% Crit Chance

 
Sword
Main Hand Slashing
Damage
58-230                  (95.8 Rating)
Delay
3.0 seconds
Level
80 (Tier 9)
Guardian
 
Effects:


When equipped:

On a successful melee attack this spell has a chance to cast Wrath of the Warrior on target of attack. Last for 12.0 seconds. This effect will trigger an average of 1.8 times per minute.

Inflicts 428 - 641 slashing damage on target
Reduces all physical damage done to target by 5%

This spell can not be modified except by direct means.

Applies Speak to Vel'Arek when Activated.
Obtain: Reward from the quest "The Search for Vel'Arek" in Antonica.
\aITEM -323141217 1794777588:Vel'Arek\/a \aITEM -323141217 1794777588:Vel'Arek\/a
What does this information mean?
This item is a reward from one of the Epic Quests introduced with Game Update 42.
See the item's Obtain field for the particular quest that rewards this item.
Community content is available under
CC-BY-SA
unless otherwise noted.