For other articles with related titles, see Mayong Mistmoore.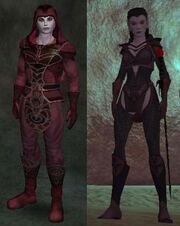 .
What does this information mean?
Sneak your way up to the top trying not to pull a bunch of the adds or he will come if he sees it. Once you are at the top have the tank go down the stairs and pull Mayong Mistmore in a chair up at the top where the queen usally stands, at the top of the stairs. Knock back won't affect you at all if you are in the chair. Once Mayong Mistmore is in the chair he will call vampire adds into the fight. Be sure you cleared the two tunaria protectors at the top or they will come in the fight when the vampire adds are close to you. Have another tank kill them than resume fighting Mayong in the chair. He does a touch on you that lowers your level by 10. There is a way to prevent this: either cure it or go into Emerald Halls, clear it out and click the flower. You will get a petal which says it will block the touch that takes away levels for 20 seconds.
An alternate strategy is to fight Mayong at the south side of the throne room under the archway beneath the throne. The archway mitigates the knockback issue nicely, though you do need to be aware of the guardian golems that can respawn there. This strategy is thus better suited to higher level groups, unless you have an off tank to pick up the golem spawns.
Community content is available under
CC-BY-SA
unless otherwise noted.