For other articles with related titles, see Valorous Bracelet.

In-Game Examine Window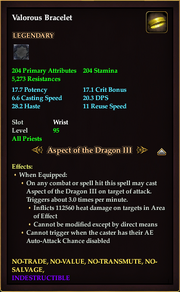 Valorous Bracelet


LEGENDARY
NO-TRADE,  NO-VALUE,  NO-TRANSMUTE,  NO-SALVAGE,  INDESTRUCTIBLE
 

204 Primary Attributes

204 sta


+5,273  Resistances
28.2% Haste
20.3 DPS
17.1% Crit Bonus
17.7%  Potency
11% Ability Reuse Speed
6.6% Ability Casting Speed

Aspect of the Dragon III
 
Slot
Wrist
Level
95 (Tier 10)
All Priests
 
Effects:


When Equipped:

On any combat or spell hit this spell may cast Aspect of the Dragon III on target of attack. Triggers about 3.0 times per minute.

Inflicts 112560 heat damage on targets in Area of Effect
Cannot be modified except by direct means

Cannot trigger when the caster has their AE Auto-Attack Chance disabled
Obtain:
\aITEM 634299054 246299760:Valorous Bracelet\/a \aITEM 634299054 246299760:Valorous Bracelet\/a
What does this information mean?
EQ2i credits this article at Census for the info in this article.
the last update on Census for this item was:
Tue, 18 Jul 2017 14:48:16 +0000
Community content is available under
CC-BY-SA
unless otherwise noted.