What does this information mean?
Before you can complete this quest, you must to complete Ale Goggles, because you need to equip the Improved Ale Goggles (reward).
If you have completed the Ale Googles quest and gathered the harestables, this quest will auto-complete.
You must answer her riddle "Through the eyes of ale you see it. With your hands you pick it. It is wild, noble, golden, emerald and godly."
Most of the riddle refers to the Bountiful Brewday garden shrubs (they have a green particle effect) that you must find and harvest materials from to complete the quest.
The shrubs are can be found near Bar of Brell locations that have open land around them. If the Bar of Brell location is not out in a grassy area (dock at Timorous Deep) check nearby and check riverbanks in most locations as well.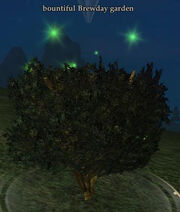 Note: you can also buy one of each of these items using the broker, but be aware that the Clovers are rather rare and may be very costly.
Equip the Improved Ale Goggles (a reward for completing the Ale Goggles quest)
You will need to harvest at least one of the following from the Bountiful Brewday garden shrubs.
The Emerald Clovers are a "rare" material, but the degree of difficulty in finding them may depend largely on any Tradeskill Alternate Advancement you may have and any gear you have equipped; to better understand the degree of variation, see talk page.
Bountiful Garden Locations
[
edit
|
edit source
]
| | |
| --- | --- |
| | This article refers to events, personae and activities only present in-game during the annual Brew Day celebration, which comes to Norrath each year the week of March 17th. |
Community content is available under
CC-BY-SA
unless otherwise noted.