| | |
| --- | --- |
| | This user lives in Texas. |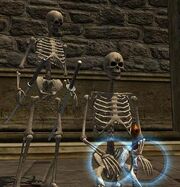 EQ2 Player Information
Name
Zyphr
Gender
Male
Guild
Embracers of Light website
RL Loc
San Antonio, TX
(Central, GMT -7)
My edit count - All my contributions
Zyphr was created on November 10, 2004 at 17:55. I have 106 days and 18 hours at the time of this posting played on Zyphr. This is my main toon on this account. I play on the Neklutos server and I am a proud member of the Embracers of Light.
Embracers of Light is a family style casual guild. Our goal is to help ensure that all our members enjoy their online experience. This includes helping each other out on quests, raids, or sometimes just sitting back and having a good conversation in guild chat. As a family friendly guild, we ask that all members refrain from offensive language/behavior both here on the forum and while online. Treat EVERYONE with respect!
EoL is part of a guild alliance with Legion. Together the alliance tries to host at least one raid event every weekend usually on Saturday night or Sunday afternoons.
I started playing EQ two weeks efter it came out and fell in love with the game. When EQ2 came out I immediately created a new account and hence Zyphr was born. I am a casual player for the most part, becuase my time is limited to real life things and work. I work for USAA as a Windows Server Administrator. I was born in Long Beach, California. Joined the US Army and went overseas for 5 years. I was last stationed at Fort Hood, TX. I got out of the Army and went to college on the GI Bill. Transfered to Texas State University at San Marcos where I earned a Bachelors in Computer Science. My senior year, I landed an internship with USAA that turned full-time. I have lived in San Antonio for 3 years now.
Page last updated: 10:52, 3 Janurary 2008 (UTC)
Community content is available under
CC-BY-SA
unless otherwise noted.