Userboxes
This user plays EQ2 on
Windows 10 64 Bit Pro with 16Gb RAM.

| | |
| --- | --- |
| | This user plays EQ2 on an Intel i5 machine. |

| | |
| --- | --- |
| | This user plays EQ2 with ATI graphics. |

User voted Brexit
EQ2 Player Information
Age
Over 21 and enjoying retirement
Gender
Male
Guild
Order of the Guiding Light [wiki] website
RL Loc
Derbyshire
(UK, GMT 0)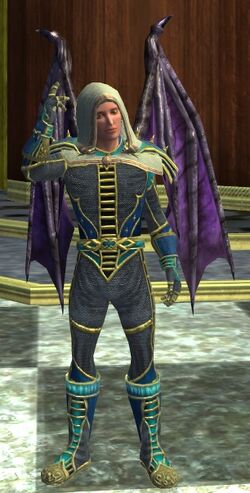 Assassin, Maladryn at your service
Playing EQ2 since January 2005
I've been a contributor to Wikipedia for many years. Mainly contributing articles/edits relating to my interests: music, philately, and a few other random subjects. More academic articles based on my experience and knowledge within industry have also been covered: especially those involving engineering and production management relating to efficiency and productivity. Oddly enough however, it had never occurred to me to make any contributions to EQ2i Wiki despite being an avid EQ2 player since 2005!
I look forward to making a useful and helpful contribution to the EverQuest 2 community.
Alternate Characters
[
]
Current Project
[
]
Working on all aspects of collection quests, including their rewards.
Everything and anything ...
To do
[
]
Useful Pages
[
]