Grellip Kettlesmith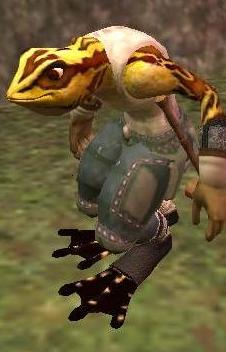 Grellip Kettlesmith is a young and enthusiastic Froglok. She especially likes making cookies, and thought that it would be a good professionial choice. Until she looked at the prices for ingrediants. So, she looked into harvesting for herself. Until she got chased all the way back to the village by a Morak. So, she took up Shaman training to in order to protect herself. She still ends up getting chased halfway across the zone after a daring harvest.
She enjoys harvesting and seeing Norrath first hand. Second to that is cooking. Obsessive questing is a close third.
Active EQ2i Projects
Edit
Flesh out quest walk throughs.
Do most of the low level quests in the game.
Enjoy being a Froggie!!!
Active Alts
Edit
Trillbi Lotuspond - Froglok - female - Monk of Mathaniel Marr - level 45ish - Jeweler
Alruna - Human - female - Bruiser - level 15ish - Weaponcrafter
Favorite Links
Edit
Special:Contributions/Kettlesmith

Community content is available under
CC-BY-SA
unless otherwise noted.