The Characters
Edit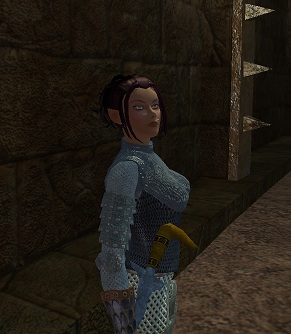 Jeorja Leionelli, a frantic dirge who does little else but curse when ganked by mobs when she's not paying attention, is a half-elf song-spinner on the Everfrost Server. Hardly a hard-core leveler, she takes on the occasional group through instances and is not in an any particular hurry for level 80. Friendly and foul, you'll catch her running to-and-fro and more than welcome to support a group.
Unless your tank is crap. If so, move along. No songs will be sung for you.
Her friends and guildmates call her, "Jeo" which is a name she's insanely fond of, despite if her name is actually pronounced, "Georgia." She also makes runes and upgrades for scouts, but that usually requires an affront of foul language, too. All the work benches in Norrath are clearly broken.
The Player
Edit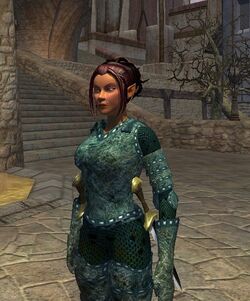 EQ2 Player Information
Name
Katie
Age
26
Gender
Female
Guild
Twilight Brigade
RL Loc
Washington state, USA
(PST, GMT -0800)
I am a twenty-something who has a simple job and enjoys gaming to an extreme amount. I started playing Everquest II after digging through some other MMOs and growing disinterested in a month or so. I fell in love with EQ2 very quickly and still play all the time. When I'm not gaming, I'm writing a novel (seriously! I'm almost done!), knitting or spending time with boyfriend/friends.
I also hope to edit the wiki, on occasion.
I have many alts, most of which never last more than a few days. All my characters are named after characters I've come up with in short stories or novels.
To Do List
Edit
Create all missing Dirge combat art pages
---
This user plays EQ2 on
Windows 7.

| | |
| --- | --- |
| | This user plays EQ2 with NVIDIA graphics. |
Community content is available under
CC-BY-SA
unless otherwise noted.