Quick Links: 
The Characters
Edit
Ikik D'Uberhoppersmasherz
Edit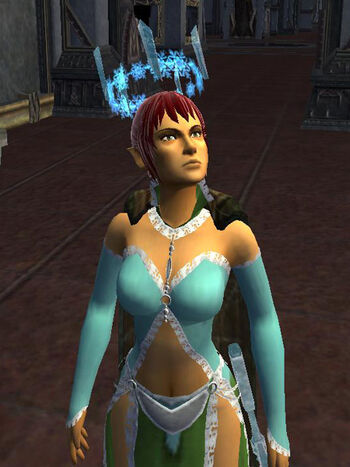 As a result of the interesting coupling of Kitalia Stanier, a
Wood Elf
Druid
following the path of
Tunare
, and Grindan Onidarius, a dashing
Human
Shadowknight
, a small half elf girl they named Ikik was born in 3729 shortly after
The Shattering
in a growing city nestled between the dunes of
what used to be the Desert of Ro
. Raised among the recovering desert peoples and educated on the history of the lands of
Norrath
, Ikik longed to see the rest of the world and what it had become following the horrific events that took place during
The Age of Cataclysms
. Her opportunity arose to travel away to what was known as the
Isle of Refuge
in an effort to help the now displaced people of
Norrath
. Upon arriving, she was in awe of the tasks available to her and decided to take up the lifestyle of adventuring. Having heard of
Freeport
and it's previous closeness to her desert home, she decided to align herself with the city ruled by
Overlord Lucan D'Lere
, yet harbors no negative feelings towards
Qeynos
and its residents.
Ikik, in a way, followed in both her parent's footsteps and is presently an aspiring Fury of 81 seasons. She has also taken her hand at the profession of Carpentry, but leans more towards the decoration side rather than the crafting. She has decorated many friend's houses and guild halls and continues to hone her skills to this day.
Nusuni Z'abadass
Edit
Harblz Yarnchaser
Edit
Ihaveno Bewbies
Edit
Acissej Strebor
Edit
Izah Hopper
Edit
Special Moments
Edit
"Hey there Ikik." "Hi Gak! I's got a new puter!" "Nice! So now you can sit around Freeport 4 times faster?" "Yes!" ":-)" ~Ikik and Gaktar
"Am I the one stealing baby gorillas and forcing them to follow me all over Freeport?" ~Koyaanis (Alt of Gaktar) to Ikik regarding the Baby Stonechest Gorilla quest line
Playing 20 questions while guiding and having my identity revealed to the world... ;)
At The Keyboard
Edit
EQ2 Player Information
Name
Jessica Galloway
Age
25
Gender
Female
Guild
Five Finger Discount [wiki] website
IM
lots
RL Loc
Great Falls, MT
(Mountain, GMT -6)
What I'm Working On
Edit
As much guide stuff as I can get to as I hear it from the "little birdies"...
Community content is available under
CC-BY-SA
unless otherwise noted.