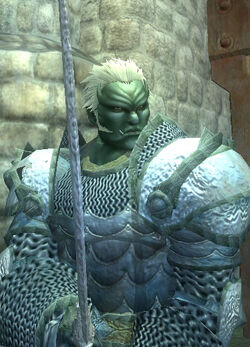 Vorrik of Unrest
I've been playing MMORPGs for about four years now, but only recently started Everquest II. I'm currently a student working toward my BAS, with an emphasis of management in technology. I enjoy games of any sort, from video games to traditional board and card games, and hope to begin work in some aspect of the gaming industry upon graduation (Spring 2008 if all goes as planned). I also dabble in digital art, working primarily on pieces featuring player characters from a number of different MMORPG's (City of Heroes/Villains, World of Warcraft, and now EQII).
Two of the first things I do when I start playing a new game is read up on the lore behind the game and find an item/trade database. Every person I asked for such a resource directed me to EQ2i. I've never contributed to a wiki in the past, but since I've used them extensively I've decided it's time I help expand upon one.
Essential and Advanced Armorer Recipe Books
Needs Crafted Items and Equipped Screenshots
Essential and Advanced Carpenter Recipe Books
Antonica In Depth: POI's, History, and NPC's
Various Armor Sets
Community content is available under
CC-BY-SA
unless otherwise noted.