You may upload a JPG or PNG image of the in-game examine window.
EverQuest II Item Information
What does this information mean?
You may upload a JPG or PNG image of the in-game examine window.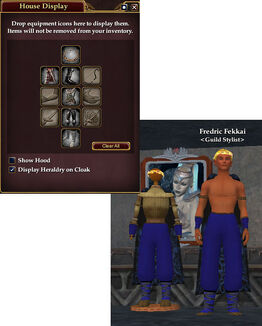 See the Guild Hall Amenities page for a list of all amenities.
About this Amenity
Edit
In order to customize the appearance of a hireling, you must purchase at least one Uniform Mannequin.
After the mannequin's appearance is set, you can use the Uniform drop down in the hireling's "Customize" menu.
Eleven items can be added to the display, including a cloak that displays the guild heraldry.This is done by dragging and dropping items into each slot.
Items used in this manner only change the appearance of the uniform mannequin; the clothing or armor is retained in normal character inventory.
The mannequin appearance can be changed endlessly at no cost.
Multiple mannequins make it easier to have a look for different types of guild hall hirelings. For example, your guild hall banker might wear casual clothing, while a Guild Guard can wear full armor.
The guild can have ten different uniforms, but the amenity only counts as one in the total amenity allowance for the hall.
Community content is available under
CC-BY-SA
unless otherwise noted.