In-Game Examine Window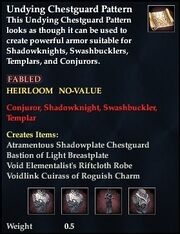 EverQuest II Item Information
What does this information mean?
Needed items
When you have all items needed for the armor piece, purchase it from Bittee Silvertail at Dropship Landing Zone in Moors of Ykesha for a Undying Chestguard Pattern, 5 Void Shards and 8p.
Armor piece
This pattern can be turned into one of the following powerful armor pieces:
Community content is available under
CC-BY-SA
unless otherwise noted.