What does this information mean?
Queen Alwenielle's memories were restored along with her true form. She explained to me how she and her fellow glaufaye are ancient guardians of invaluable knowledge, after suffering a significant attack she locked it away within a gem and broke the gem into three shards. The Grand Artificer held one of the Chaos Rebirth Stone shards within his Exceptional Screwdriver. Now we know that the Aberrant siege was a diversion, while the Primordial Malice infiltrated the city in search of the gem shards!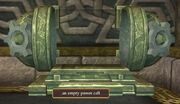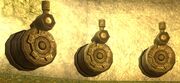 Community content is available under
CC-BY-SA
unless otherwise noted.