EverQuest 2 Quest Information
Journal Category
Tradeskill
Journal Level
1 (Tier 1)
Journal Difficulty
Solo
Starting Zone
see Starting the Quest below
How to Start
see Starting the Quest below
NOTE: A discussion page exists which may contain more information
What does this information mean?
Starting The Quest
[
]
This quest can be started by talking to the following NPCs:
Steps
[
]
You will receive a 12-slot meager harvesting bag from the NPC.
Harvest the following from a Tier 1 Zone

Note: Tier 1 zones are not Antonica or Commonlands. Try Greater Faydark, Frostfang Sea, Timorous Deep or Darklight Woods. Also Queen's Colony or the Overlord's Outpost (newbie isles).
3 severed elm from logs
3 roots from clusters of roots
3 tin clusters from ore-containing rock
3 lead clusters from rock nodes
3 sunfish from schools of fish
3 jumjum from a garden or shrub node
3 rawhide leather pelts from animal dens

Return them to the instructor.
Rewards
[
]
Notes
[
]
This quest did not award me any experience (adventure or tradeskill).
Hints
[
]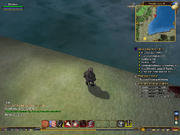 If you plan to take up a tradeskill, gather extras of each harvest to save yourself the time and effort of traveling all the way back to this area to harvest.
The good news is that taking the next quest in this series, combined with the tradeskill tutorial that follows it will help you level very quickly through this Tier (level-range) of harvested materials. Gathering approximately double of each gets most players through the tutorial if they are successful each time they craft. It may take slightly more if you struggle with crafting though.