In-Game Examine Window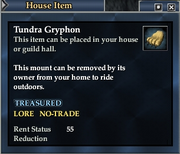 EverQuest II Item Information
Type: House Item
Subtype: Mount

Tundra Gryphon

This item can be placed in your house or guild hall.



This mount can be removed by its owner from your home to ride outdoors.

 
TREASURED
LORE,  NO-TRADE
Rent Status
Reduction
55

Obtain: Examining a Tundra Gryphon will give the option to turn it into a house item.
What does this information mean?
Community content is available under
CC-BY-SA
unless otherwise noted.