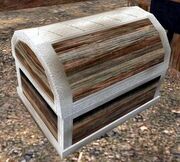 .
What does this information mean?
Spawned by slaying haunted chests (along the path near Wrath's Anvil), then pick up and move the slain chests to a marked spot in front of a hungry chest ( -203, 16, 150 ) 

/waypoint -202.52, 15.76, 150.07

.
There will be periodic spawns of items of clothing that can be right-clicked and destroyed to mitigate his damage. (Mousing over the clothing and pressing F repeatedly destroys them much faster). 300% potency, 10% Bleedthrough, and 5 auto-attack multiplier Per Increment.
Periodically he yells Time to Check Out, or Time to Check In, accompanied by a detriment placed on you. If you are closer (Out) or further (In) than 10 meters when the detriment expires, you are knocked back, stunned, and get magic damage for 8 sec.
Community content is available under
CC-BY-SA
unless otherwise noted.