EverQuest II Zone Information
What does this information mean?
NOTE:

A discussion page exists which may contain more information

Description
[
]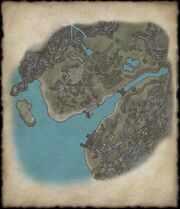 This zone is accessed via the world travel globe (on TLE servers, only the globes on the Nektulos Forest & Thundering Steppes docks) and is listed on the map as The Isle of Mara. (With LU56 the travel system was revamped and the world travel bells were replaced with globes.)
The quest The Far, Far Away Far Pelican was originally needed to access the Isle of Mara. The quest is still available but no longer required to access Mara.
This is the starting zone for the Fallen Dynasty adventure pack. It is a city zone with almost no combat encounters, but many quests.
The outpost nearest the dock is operated by the Far Seas Company, and provides basic city services including brokers and a banker.
The Village of Shin itself is across the river, and is a source of quests. You will need to complete some initial quests to earn the trust of the villagers. See the Fallen Dynasty Timeline for details.