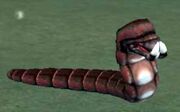 .
What does this information mean?
The Toxic Brood Mother appears on a hill with monstrous shoots and eggs on the ground. It seems that the Brood Mother spawns after all the monstrous shoots have been cleared. When she spawns, the eggs immediately hatch into toxic leeches (see their page for more info about them).
Although The Toxic Brood Mother does not hit any harder than an average named mob of her level, all the toxic leeches in the area will attack you when you begin fighting her. Because of this, the encounter could be considered underconned. The leeches can be killed without pulling the brood mother, but they are on a very fast respawn time.
Good AoE damage would be very beneficial in this fight. Friends to keep the leeches cleared would also work.