What does this information mean?
This quest is unavailable to characters of Good-alignment.
Kill Shin`Ree avengers outside of Wailing Caves around ( -247, -48, -854 ) 

/waypoint -247, -48, -854

.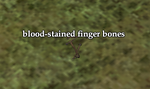 Harvest 5 blood-stained finger bones that drop from the orcs upon their death.

These bones do not drop from a chest, corpse nor are they auto-updated - they are gathered from the ground. Furthermore, the bones do not drop from every orc skeleton and are very tiny. If you are having trouble seeing them, zoom your camera in.

Return to Ventar.
At least

9s

 

94c

Completing this quest gives +75 faction with The Freeport Militia
One of the following, based on Class:
Community content is available under
CC-BY-SA
unless otherwise noted.