Roblox: DeepWoken - The Loop
Play Sound
> Audit
EverQuest II Zone Information
What does this information mean?
NOTE:

A discussion page exists which may contain more information

The courtyard and flying island of the Djinn Master's Palace. The Naga Qadira the Naga within The Pillars of Flame holds the secret to gaining access to this flying citadel.
The Shimmering Citadel is the home to the Djinn of the Desert of Ro. Ruled by The Djinn Master from his court above, the citadel holds the lower hierarchies of Djinn and lesser beings that serve the court. Originally pulled from the Plane of Sky, the floating citadel rests upon a ragged chunk of rock from which several enormous chains dangle.
- From Dungeons in the Desert
Maps
[
]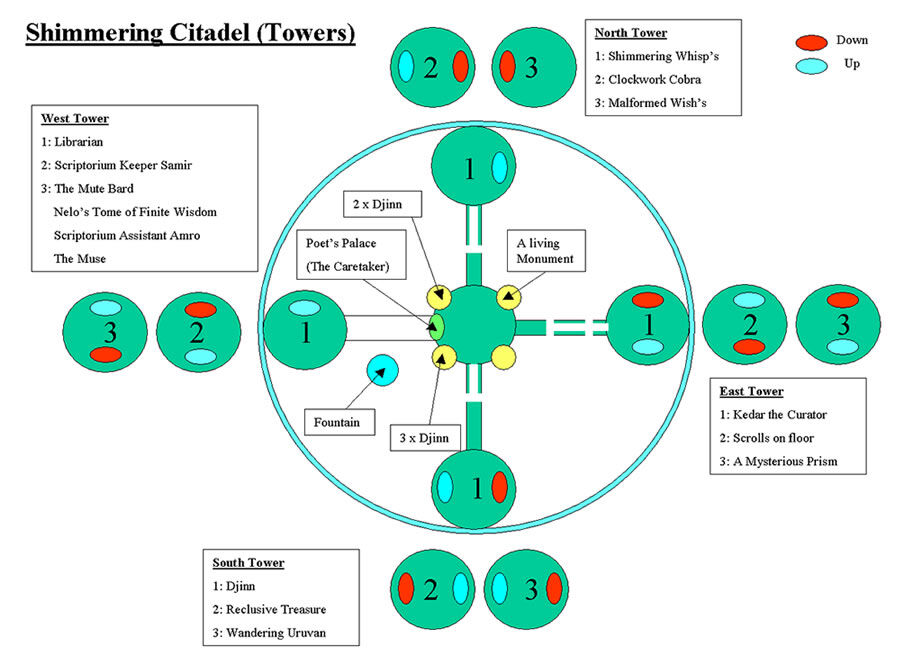 Travel
[
]
The zone is accessed by clicking a mirror in one of the Naga caves in The Pillars of Flame( 884, -177, -1595 ) Copy/waypoint 884, -177, -1595, or with Samirah's mirror, or with a carpet Shimmering Carpet of the Citadel in your room.
There are many gaps in the floors near zone in. Move slowly, look down, jump when necessary. Falling down in a gap results in:
Hitting the ground below you and dying (even if you are a fae this counts as death!)
Getting zoned out to Pillars of Flame
Suggested reading:
Quests
[
]