The Shattering refers to the astronomical event occurring approximately the year 3711 in which one of the two identified moons of Norrath - specifically the moon of Luclin - broke apart in orbit. Pieces of Luclin, propelled out of orbit by the force of the explosion, were pulled into Norrath's field of gravity, entered the atmosphere, and collided with the surface of the planet.
Pieces of the moon struck both land and sea, causing earthquakes and tsunamis, as well as causing catastrophic damage to the tectonic plates and continental landmasses of the planet.
As a result of the Shattering, the surface world of Norrath is often referred to as The Shattered Lands by survivors of the near-apocalyptic event. The previous unified landmass of Antonica was split into many smaller island-like subcontinents, while other landmasses either moved or were significantly changed so as to prevent previous shipboard navigation from providing transport between.
Norrath's second moon, Drinal, survives.
Text from The Tome of Destiny

[

edit

|

edit source

]
They crept through the shadows and waited for the guard to pass.
"He's gone, Tielya. It's safe."
"The guards should be the least of your concerns," she replied. "If my father ever found out that a human like you would be so bold as to touch a Teir'Dal maiden, he'd have your head on a pike before dawn."
"Good point," he said, pulling her close to him. "And what do you think he'd do if he found out that I'm going to marry you?"
"Impudent human!" she exclaimed, pushing away. "What makes you think a daughter of the house of V'Dreth would consent to such a union?"
"This," he answered, kissing her softly.
She smiled. "Even so, my father will be furious. I'm not joking when I say we have to be careful."
"I know," he answered, "but your father isn't here right now. And if we don't make our way to the docks soon, the guard will be back. Let's go."
He took her hand and led her to the pier. A small boat was tied up below the dock. They climbed down into it and untied the rope, rowing quietly into the harbor.
"Such a beautiful night," Tielya said. "I love the darkness of the new moon. Don't you, Sarven?"
"I love the darkness of your skin more, but the moon is nice, too." He smiled. Her eyes glinted back at him.
They rowed around the edge of the harbor, past the tall ships anchored at the Freeport docks. Their boat glided out of sight of the watchtowers to a deserted spot near the sandy shore. Sarven put down the oars and Tielya leaned back against him. They looked out across the silent water.
"The sea hasn't been this calm for a long time. A good omen, I think," she said to him.
"Indeed. Maybe it's a sign that we should run away from your family and start a new life somewhere else."
"Where could we go that a human and a dark elf would be allowed to live together? The Commonlands are overrun by orcs. If we fled to Nektulos, the fanatical Thexians would eagerly hunt you down. And while you might be able to find a place in Qeynos, I doubt they'd be very welcoming to a Teir'Dal. The oceans are still unsafe to cross. Our options are--"
She stopped when she noticed the sky over the water begin to shimmer and grow brighter.
"What is that?" Sarven asked.
"Some kind of distortion is forming. Whatever it is, it's enormous."
The flickering light coalesced. There, in the sky before them, was a round moon circled by an ephemeral ring.
"By the gods!" Tielya exclaimed. "Can that be Luclin?"
"I read about it growing up, but access to the moon was lost centuries ago. It was said to be hidden behind some kind of veil. Why would it be visible now?"
As he spoke, the moon began to glow brighter. Lines of energy arced across its surface as if the entire sphere crackled with power.
"What is happening?" she asked.
"Tielya, cover your eyes," he told her.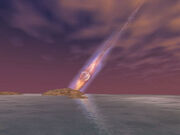 "But it's so beautiful."
"Cover your eyes!"
For an instant the sky flashed as bright as day. Sarven squinted and shielded his eyes with his arm. After a moment the light dimmed, and he looked up to see Luclin broken apart in the sky, a wave of energy carrying chunks of debris rapidly toward Norrath.
"We need to go quickly," he said. I don't know how far away Luclin is, but it looks like pieces of it will be hitting soon."
"Sarven," she said softly, her eyes staring forward.
"Yes?"
"I can't see anymore."
____________________________________________________________________________________________________________________________
"What do we know?" he asked.
"Very little," the informant replied. "Most in Freeport were asleep when it happened, though of course the intensity of the light awoke them."
"Can we even confirm it was Luclin?"
"Some who claim to have been to the Plane of Sky long ago agreed it looked like what they saw there, but who can say for certain? The planes play tricks on the eyes, and nothing may be what it appears. If it was Luclin, it was not as distant as many thought."
"Any idea as to the cause?"
"Just rumors. Luclin has been cut off from us for so long now, many had all but forgotten about it. The priests think its destruction is a portent that the gods will soon return. Others speak of an invasion that happened there long ago and claim this is the result. The ogres blame it on gnome meddling; the humans suspect the ratonga. The Overlord has begun an investigation of his own, but at this point nothing is certain."
"How bad are the casualties?"
"Too many to count. The largest pieces hit first, causing huge impact craters and scorching the lands. The Arcane Scientists claim that debris may be falling for years, perhaps even decades. They simply don't know."
The older Teir'Dal scowled. "I must have answers. Bring him in."
Two guards opened the door and left the room, returning moments later dragging a man between them. He had been beaten badly and couldn't walk on his own. They brought him before their master and held him up.
"Tell me, human, what did you see?"
"I... already told you," he replied weakly.
The dark elf slapped him hard across the face. "Vile wretch! You blind my daughter and now lie to my face! No one may do that to V'Dreth and live!" The Teir'Dal slapped him again.
"We were... on the boat. We saw the flash. I begged her to look away. I would never hurt her."
"Lies!" V'Dreth cried out as he hit Sarven again. "You kidnapped Tielya to hold her for ransom and stole her sight to hide your identity! Now tell me what you saw!" He clenched his fist and prepared to strike him again.
"Enough, father," Tielya called out from the doorway. "Do not hurt the man I love."
V'Dreth cringed. "You do not know what you are saying. He is a filthy human who has cast some spell on your mind. You could not love one such as him!"
She let go of the doorway and walked forward, nearly stumbling when she reached the edge of the table. She felt her way along it until she stood near her father.
"You have asked him over and over again what he saw. Why do you not ask the same of me?"
V'Dreth was silent for a moment. "Alright then, what did you see?"
She smiled faintly as she stared straight ahead with sightless eyes. "The moon was so clear. It was alive with energy flowing through every part of it. Then it was as if something in the center broke loose and leapt outward, like a bird of prey hatching from an egg. I couldn't turn away. It was so beautiful."
He looked down at the ground, then back at his daughter. "Do you really love this human?"
"I do," she said defiantly.
"Then have him," he said, motioning for his guards to drop Sarven on the floor. "Leave now, and never return to my house. I no longer have a daughter."
Her face was stoic as she nodded once, bending down to help Sarven to his feet. "Guide me, my love, and I will carry you," she whispered to him.
V'Dreth watched them go. He turned to the guards. "See that they find a room in an inn, somewhere out of the way. Deliver her things there. Make sure no harm comes to them, but never speak of them to me again. Go."
The guard saluted and walked away. V'Dreth turned back to his informant. "There must be more answers to be had. Find them."
The informant bowed and headed through the door, leaving V'Dreth alone in the dark chamber. The Teir'Dal touched the edge of the table his daughter had followed, then clenched his fist and stared into the shadows.
---Source: Everquest II website
Community content is available under
CC-BY-SA
unless otherwise noted.