"
Whether more information comes to light in the future, the fact remains that Varsoon no longer walks among the living.
"
 

— Recently deceased The Ruins of Varsoon explorer
This is a master quest list that excludes any holiday/event related quests.
All quests listed here, unless noted, can be started and completed as of January 2018.
NOTE: Always start book quests before you begin killing everything!!!
Starts at: Jiana Waterway in The Thundering Steppes at ( -649, -8, 685 ) Copy/waypoint -649, -8, 685
Keeping the Topside Safe

This quest has three versions, a level 28, a level 32 and a level 34. Each version must be completed ten times to reach the next version. Upon completing the final iteration of the third version, the master quest becomes unlocked: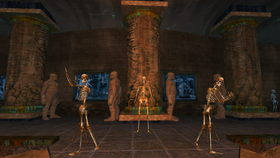 Last Place They'd Look - examine a book on the floor at either ( 

-273, 0, -28

 ) 

/waypoint -273, 0, -28

or ( 

-301, 0, -34

 ) 

/waypoint -301, 0, -34

Ash Covered Necklace - examine the ash covered necklace received in the previous quest.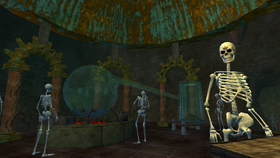 These quests involve The Ruins of Varsoon, but are not necessarily part of the timeline:
Community content is available under
CC-BY-SA
unless otherwise noted.