What does this information mean?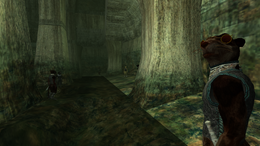 Entrance from Edgewater Drains at: ( 28, 32, 72 ) Copy/waypoint 28, 32, 72
Notes
[
]
The Nook is a moderate-sized room with columns throughout:
There are several wandering Murkwater thiefs and Murkwater warriors in the middle.
There are groups of Murkwater in each front corner (from where you zone in) and along the middle of the side walls.
There is a single Murkwater brute in each back corner.
Madame Kisa is on the far side of the room grouped with some Murkwaters.