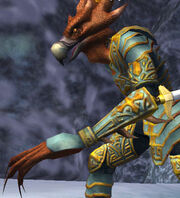 .
What does this information mean?
Before engaging The Kly, check each of the four corner rooms and make a note of what color the orbs are. Be aware that the orb's color may conflict with the orb's name (for example, The Emerald Orb may actually be yellow or The Azure Orb may actually be purple while The Violet Orb is actually black). Ignore the names and only pay attention to the actual color of the orbs. A fifth orb (the "Active" one) will appear above the bed in the room all the way to the north after you engage The Kly. The fifth orb will change colors during the battle (at 98%, 94%, 84%, 74%, 64%, 54%, 44%, 34%, 24%, 14%, and 4%). When the "Active" orb changes colors, two things must happen. First, the raid must stop ALL damage on The Kly -- that includes mercs and pets. To be safe, everyone should turn their backs to The Kly to prevent riposte damage. If he continues to be damaged, The Kly will gain stacks of buffs that ultimately will wipe the raid. Second, someone must go into the corner room whose orb matches the active orb's color and destroy the orb. When that happens, the person who attacked the orb will be teleported to the sacrificial table where The Kly is. The Kly will then begin absorbing health from the person on the table. The raid party should stand at the head of the table, facing The Kly, and resume damage. Rinse and repeat.
Community content is available under
CC-BY-SA
unless otherwise noted.