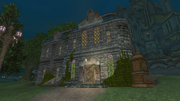 The Ironforge Exchange
(Shattered Lands)
Overseeing all trade operations of Qeynos is the Ironforge Exchange. This is an ancient trade organization ruled by one of the most affluent trade families of the Kingdom of Qeynos.

This is the tradeskill faction of Qeynos.

The Ironforge Exchange is controlled by the Ironforge Family, the wealthiest and most powerful family within Qeynos. They have tremendous influence over Qeynosian politics and affairs, often placing them at the helm of any crucial issue occurring in the city, such as with the City of Qeynos Timeline. No amount of gold can be made within Qeynos without the Ironforges and the Ironforge Exchange knowing about it. They are led by Baron Kaedrin Ironforge.
Allies
No known allies
Enemies
No known enemies
This is a base page. See also: Category:The Ironforge Exchange (Faction)
Faction Merchants:
Edit
Faction Rewards:
Edit
10,000 (amiable)
Edit
20,000 (kindly)
Edit
30,000 (warmly)
Edit
40,000 (ally)
Edit
Community content is available under
CC-BY-SA
unless otherwise noted.