For other articles with related titles, see The Glutton.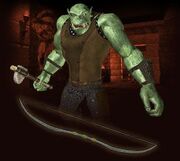 .
What does this information mean?
Spawn the Glutton by killing all the orcs in The Glutton's Bliss messhall, then speak to a deathfist toiler ( 

-8, 1, -15

 ) 

/waypoint -7.57, 1.00, -14.54

. Let the toiler go free, and the sneaky orc will go and ring the gong nearby, spawning the Glutton.
Make sure all the doors possible are shut, as the Glutton will try and rush to The Glutton's Bliss, and if he gets there, he will become unkillable.
Basically a tank and spank, but you will want to stun, slow, and root as much ass possible.

At 40%, the Glutton charges to the far wall and takes 75% less damage.
At 20%, the Glutton runs to The Glutton's Bliss and takes 100% less damage unless stunned.
Community content is available under
CC-BY-SA
unless otherwise noted.