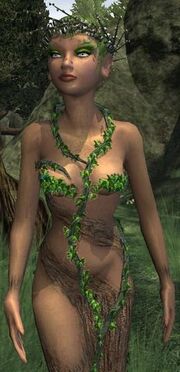 .
EverQuest II Named Monster Information
Zone (Patch)
The Mystic Lake (Fallen Dynasty)
Race
Dryad
Level
75▲▲▲ Tier 8 Epic x4 , (Approx. HP: 3,300,000)
Location
The Ring of Direful (druid ring)
Reported Drops
Melee Attacks
Crushing
Spell Attacks
Crushing, Piercing, Magic, Heat
Special Attacks

.

Rain of Thistles, Magic DD (AoE) 60 second recast.

Searing Moon, Heat DD (AoE) 45 second recast.

AA Exp
unknown
Status Points
unknown
What does this information mean?
In order to spawn The Direvine Matron, you need to kill 2 other epics as part of a ring event. Those mobs are The Overseer of Change and Korzak the Constructor.
Community content is available under
CC-BY-SA
unless otherwise noted.