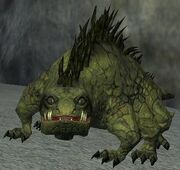 .
What does this information mean?
Corsolander reflects melee damage with his damage shield, so melee only if your hp is high and back off melee when your hp drops. This is mostly a ranged fight, use hexes (call them out), arrows, pets, spells, etc. Don't take aggro...he AOE's and you'll wipe raid.
His autoattack does 2000 to 5000 slashing damage and he will cast War Stamp every 45-50 seconds, which does 2500 crushing damage with knockback and stun (but can be resisted). He also has about 1,600,000 hitpoints, meaning the fight will be a long one. For these reasons, power can be a problem for the healers, so it is a good idea for the healers to make sure they have three charges on their hearts and shards (destroy and ask for a new one if neccessary). DPS needs to be controlled carefully; the key to success is a slow, steady burn.
Community content is available under
CC-BY-SA
unless otherwise noted.