What does this information mean?
Formerly, players had to complete the access quest, The Condemned Catacomb Key, but this is no longer necessary. However, a player must be on a related quest to gain access to the instance, and if they desire permanent access then the former access quest must still be completed.
Zone
[
]
Zone to Antonica ( 

-215, -0, -53

 ) 

/waypoint -214.82, -0.01, -52.85
Background
[
]
A long lost portion of the Qeynos Catacombs has been discovered, and with it a horde of dark and vile goblins. The Concordium fears that the catacomb is home to the dark mage, Vindiami the Ancient, who the Necrosis Goblin Clan is attempting to awaken. Hearkening the words of The Concordium, The Celestial Watch has dispatched an emissary to this remote region of Antonica to investigate the situation and recruit any willing adventurers who would like to assist in ridding the world of these dangerous evils.
Quests
[
]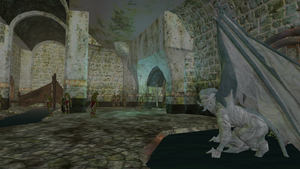 All related quests can be picked up at the camp at the very top of the cliff above the entrance to the instance.
Notes
[
]