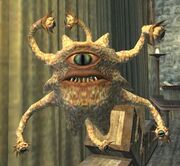 .
What does this information mean?
Strategy
[
]
The first named encounter in The Vigilant: Destruction. He casts no spells and does not knock back.

All of his damage is from piercing and slashing. Every 55 seconds, he puts out a raidwide proximity based piercing-AE "Shred" (avg hit was 7.5K) that has a 360 degree radius (if you revive and attempt to run back, Shred will hit you as you run up the ramps). Occasionally, he puts out "Stuck," a curable elemental root that does no damage.

His teleports are seemingly random with each one preceded by an emote. The three flavors of teleport that were noted were (a) teleports raid member to either the center of the platform he wanders around or to the hallway nearest him, (b) teleports/summons someone to him, and (c) teleports himself and the main tank to any of the above mentioned locations.

We had the tank pull him to just in front of the two banners near the ramps that lead you up to his platform, and the raid stayed near the doorway. At that distance, no squishy had any trouble surviving the AE. When the tank gets teleported, simply walk him back to the banner.