Item Triggered Timed Quests in Thalumbra, the Ever Deep reward a Dirt encrusted key. Unpacking that key yields a status loot item, and one of the following:
These chests spawn randomly in various locations throughout Thalumbra.
The Tracking ability can be used to locate these chests.
If your class/race can't track, consider hiring a mercenary with tracking and have him track for you.
Chests show up even (white) at level 100. You can also just filter for "chest".


Known Gold Chest Locations
[
]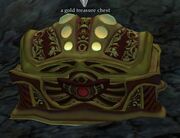 Above the entrance to Maldura ( 

211, 245, 526

 ) 

/waypoint 211.06, 245.26, 525.83

 .
Near Torna the Mender in Outer Maldura ( 

-333, 240, 388

 ) 

/waypoint -332.77, 240.25, 388.32

.
On a mining trestle in Outer Maldura ( 

428, 144, 246

 ) 

/waypoint 427.70, 144.30, 246.29

 .
In Glittervein Depths ( 

437, 141, 833

 ) 

/waypoint 436.81, 140.53, 832.90

 .
In Blightstone Barrens ( 

577, 140, -387

 ) 

/waypoint 577.20, 140.25, -387.43

 .
Underwater near the northern tip of Aberrant Island ( 

190, 12, -990

 ) 

/waypoint 190.25, 12.13, -990.09

.
Southernmost part of the Charnel Blight ( 

-579, 102, -128

 ) 

/waypoint -578.66, 102.14, -128.33

 .
On the west edge of the lip of Abyssal Falls ( 

28, -28, -272

 ) 

/waypoint 28, -28.17, -271.87

.
On a ledge between the exit of the Splitiron Mine and the opening of the Deep Hollow ( 

-27, 99, 224

 ) 

/waypoint -27, 99, 224

 .
Inside the Tylwyth's Hut in Zou'Lidelas ( 

-332, 240, 385

 ) 

/waypoint -331.53, 240.38, 385.45

 
Under one of the waterfalls at Abyssal Chasm ( 

24, 0, -249

 ) 

/waypoint 24.23, 0.00, -248.65
Known Platinum Chest Locations
[
]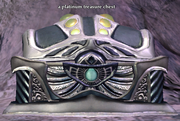 Known Umbrite Chest locations
[
]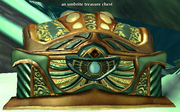 In the Glittervein Depths ( 

499, 51, 875

 ) 

/waypoint 499.45, 50.70, 875.28

 
South of the Abandoned Fungus Farm ( 

773, 34, 582

 ) 

/waypoint 773, 33.53, 582.13

On a ledge in the Abyssal Chasm ( 

-148, -69, 84

 ) 

/waypoint -148.48, -68.69, 84.04

 .
On a ledge in The Deep Hollow ( 

368, 544, 172

 ) 

/waypoint 367.76, 544.22, 171.60

 
On a leaf on the west edge of Zou'Lidelas ( 

-196, 177, 150

 ) 

/waypoint -196.25, 176.72, 150.08

On a leaf just east of Corpse Cauldron ( 

-598, 218, 298

 ) 

/waypoint -597.89, 217.85, 297.67

 .
In Savage Spires ( 

-122, 57, -419

 ) 

/waypoint -122.02, 57.19, -418.81