What does this information mean?
I discovered an empty crate near the shore of The Silent Deep. In fact, I can see the fading light of the mushroom caps scattered about the ocean floor. Someone must have dumped them all out! I better collect them all before they're ruined!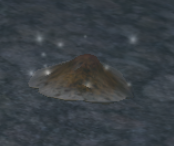 Harvest 10 mushroom caps from the ocean floor and return them to the cart.

You have 5 minutes to complete this quest.
Some of the caps may spawn an ironblood spore that will attack you.
Look before you leap! There's a school of hungry fish in the waters nearest the cart.
Can be done with group but, no group updates.
Community content is available under
CC-BY-SA
unless otherwise noted.