What does this information mean?
Steps
[
]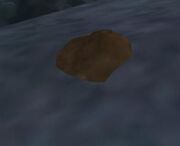 Gather 5 clumps of swamp mud. These can be found randomly around the edges of pools and streams in Innothule Swamp and look like little piles of animal droppings. Note that they seem to be incredibly harder to spot with lower graphic settings.
Gather 5 fallen cypress. These can be found randomly throughout Innothule Swamp and look like small versions of bleached timber. Click fast enough and you can get more than one harvest per node.
Gather 5 sandstone rocks. These can be found randomly next to rock walls in Innothule Swamp and look like big brown rocks. Like the fallen cypress, clicking these quickly enough, will net you two harvests per node.
All materials can be found around ( 

21, 12, 133

 ) 

/waypoint 21.19, 12, 133.40

Return to Scabby Gabby.
Notes
[
]
With the mud clumps you can only harvest 1 per node. With the others, if you are in a group and can time the harvest, everyone should be able to get at least 1 item per node; multiple people can click the node at the same time and get a harvest, and if you are a quick clicker you can get 2 harvests from each node for each person in your group.
All spawns are random. See the talk page for locations where other players have found the items to be gathered for this quest.
make sure that you have your brokenskull disguise up, otherwise you can't get the update from Scabby.
Rewards
[
]