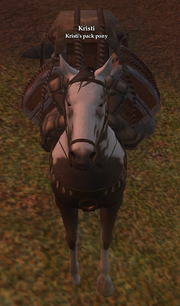 EverQuest 2 Spell Information
Summon Artisan's Pack Pony



Target
Self
Casting
2.0 seconds
Recast
Instant
Duration
1 day





Effects


Summons a pet Artisan's Pack Pony
This spell is not upgradeable
In order to have this ability you must compete the quest series that grants it. See Artisan's Pack Pony for details.
Summon Artisan's Pack Pony appears in the "Abilities" section of your knowledge book.
When you hail your Artisan's Pack Pony it will ask you which tier of materials you would like it to gather (ie level 10 - 19 harvests).
It takes the Artisan's Pack Pony 2 hours Earth time to harvest materials.
You can send the pack pony back out to gather again after you have emptied it's packs. There is no cool down timer.
You do not need to have your artisan's pack pony active for it to harvest. You can dismiss the pony once you have made your selection for the harvesting tier.
To dismiss the pony either click the "Summon Artisan's Pack Pony" button again or cancel the "Pack Pony" status effect.
You can resummon the pack pony at any time to check if it's completed harvesting.
You will not receive a message when the pack pony is done gathering. You have to remember to check on it.
The pack pony will harvest while you are logged out.
The pack pony will not harvest rares.
2014 Upgrade
Edit
In 2014, our dear friend, Qho had yet another task for those who harvest for tradeskill purposes or those who harvest for fun and profit. You must have access to Obol Plains, but the upgrade will now bring in rares and holiday harvests. See the page on Artisan's Fully Trained Pack Pony.
Community content is available under
CC-BY-SA
unless otherwise noted.