For other articles with related titles, see Spidermech Defender.


You may upload a JPG or PNG image of the in-game examine window.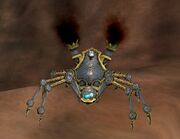 EverQuest II Item Information
Type: Familiar

Spidermech Defender

Most of the time, it just sits there, unmoving. No ethereal light, no clanking joints, nothing. But even then, I can't help but feel like it... sees me. Event and promo familiars may not be consumed for familiar experience.
 
FABLED
ORNATE,  NO-TRADE,  NO-VALUE
Summon Familiar: Spidermech Defender
Charges
Unlimited
Casting
2 seconds
Duration
Until Cancelled
Recast
0.0 seconds
Level
1 (Tier 1)
Effects:

Applies Summon Familiar: Spidermech Defender when Activated.

Increases AGI, INT, STR and WIS of caster by 98.1
Increases Potency of caster by 142.7%
Increases Crit Bonus Overcap of caster by 80.0
Summons a pet Spidermech Defender
When damaged this spell has a 10% chance to cast Clockwork Mending on target.

Heals caster for 0.2% of max health

This effect cannot be critically applied.

Cannot be modified except by direct means
This effect can only trigger once every 2.0 - 3.0 seconds.




Obtain: Tinkerer-crafted using a 500 minimum skill recipe from Spidermech Defender Blueprints
\aITEM -394048926 759246135:Spidermech Defender\/a \aITEM -394048926 759246135:Spidermech Defender\/a
What does this information mean?
EQ2i credits this article at Census for the info in this article.
the last update on Census for this item was:
Wed, 24 Jun 2020 14:53:27 +0000
Community content is available under
CC-BY-SA
unless otherwise noted.