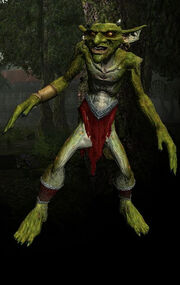 .
What does this information mean?
Healers must heal through the mob for this one. He will occasionally put an uncurable spell on the tank that stops the tank from attacking him at all, so the tank must try to get as much aggro as he can, as fast as he can before this happens. Occasionally another person may take the aggro while this spell is on the tank, so it is nice to have a Brigand, Swashbuckler or other scout as an offtank if this happens.
Ok.. there's a minor 'bug' with him right now. It could be because I was fighting him at 90, but someone will have to confirm. When he casts the uncurable effect, you are supposed to turn and clear your target. I didn't turn, and while the GAME thought my target was cleared (I couldn't hit anything, even after the spell expired) your target window says you're still on him. Because of this bug, you can't simply retarget. You have to Manually Clear Your Target first, then retarget and beat him down.
I got that bug aswell. As he gouges he forces you to target him. If you are solo, spam target self, as soon as you get yourself in target you can just hit F8 to target him again.
Community content is available under
CC-BY-SA
unless otherwise noted.