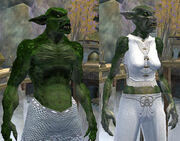 .
What does this information mean?

You can fight Bitterman, Cutthroat and Bipsie in any order, but until they've all dropped Dunkin won't spawn.
Buffs/Debuffs
Edit
Dunkin has less health and doesn't hit as hard as the others do.
At 65% and 25% health, he'll transform into a dervish and become immune to damage. He'll scream with goblin-sounding laughter and start spinning around the room chasing you. Contact with his dervish form does a few thousand damage and sends you flying, so don't go outside his room. He doesn't move that fast and can be dodged if you keep him near the walls, but if he gets near the middle of the room it's harder to avoid him.
He spawns 3 (?) a bladestorm when he becomes a dervish. After killing all a bladestorm he can be attacked again.
Community content is available under
CC-BY-SA
unless otherwise noted.