What does this information mean?
Description
"The Tuwasp bixies can't be allowed to establish a new hive, because they are a threat to the spirit blooms in the Nursery. Sentry Talvee asked me to chase off the bixies by uncorking a vial of Tunare's Breath near the hive" --Everquest II Journal
Steps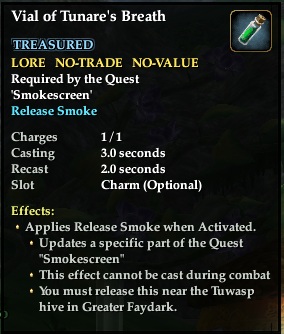 Use Vial of Tunare's Breath given to you by Sentry Talvee near the Tuwasp Hive ( -137, -54, -592 ) 

/waypoint -137, -54, -592

.
Return to Sentry Talvee.
Conclusion
"I released the bottled smoke, forcing the bixies to evacuate their hive. They will have to build their home elsewhere." --Everquest II Journal
Rewards
Community content is available under
CC-BY-SA
unless otherwise noted.