You may upload a JPG or PNG image of the in-game examine window.
EverQuest II Item Information
\aITEM 925640382 1300729142:Sinking Sands Creature Catalog\/a \aITEM 925640382 1300729142:Sinking Sands Creature Catalog\/a
What does this information mean?
Book Text
Sinking Sands Creature Catalog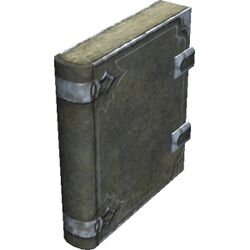 | | |
| --- | --- |
| Author: | Darn McMalner |
| Style: | Large Gray Book |
| LootDB Link: | LootDB |

The region known as the Sinking Sands makes up the northeastern shores of the land known as Ro. Seen from ship it appears barren, bland, and inhospitable.
In reality it is teeming with life of all kinds. The lands of Ro are home to the Dervin Empire, that makes its presence known across the entire landscape.
This is especially true in the Sinking Sands, where ambassadors from each political alignment eagerly await new arrivals.
Arriving at the Port of Tears, newcomers will find several facilities set up to welcome and encourage participation in local events. Beyond the Port, however, other inhabitants make their homes.
Crocodiles and caimans share the remains of the Oasis of Marr with spectres and shade prowlers. Narrow pathways lead away from the Port toward the dunes which give the Sinking Sands their name.
Without screens of trees or many rock formations, one might feel that every danger is easily seen and avoided. This is simply not true.
Beyond the wall of rock the land opens up to dangers of all sorts. Water is sparse. The land is filled with wandering lunatics, orcs, undead and insects of all sizes.
The list does not stop there: lizardmen, giants, snakes (living AND undead), camels, goblins and gnolls all also inhabit the Sinking Sands.
The creatures themselves are daunting, but the fact that they've all evolved to live in this harsh climate makes them all the more frightful.
While the region is a desert, it is not merely dry and hot. The nearby ocean shifts the temperature throughout the day/night cycle and keeps the air more humid than one might expect (which, unfortunately, makes the heat that much more unbearable).
The occasional breezes that rise above the rock wall and travel over the region are a welcome relief.
The air from the Pillars of Flames to the west, however, is mean, dry and hot.
From the Sinking Sands one can venture into the Pillars of Flame to the west, or the Clefts of Rujark to the south.
High in the sky to the southwest one can see Maj'Dul. In the northwestern skies, what appears to be a city silently watches this land.
There is no doubt more to this land, but it is hard to distinguish rumor from fact. Tales exist of old, buried cities and civilizations, but the land holds its secrets well.
Community content is available under
CC-BY-SA
unless otherwise noted.