In-Game Examine Window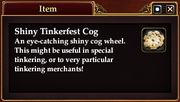 EverQuest II Item Information
\aITEM 1817112378 34586157:Shiny Tinkerfest Cog\/a \aITEM 1817112378 34586157:Shiny Tinkerfest Cog\/a
What does this information mean?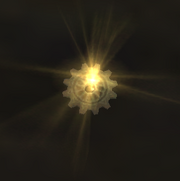 Shiny Tinkerfest Cogs are the main currency of Tinkerfest.
The cogs are small shiny ground spawns that can be found around any Tinkerfest celebration location close to the area where the Unstable Tinkered Portals are found, as well as in Gnomeland Security Headquarters.
The cogs have a fast respawn time, but if you feel that you're being trampled in the rush of party-loving gnomes, check out one of the alternate locations.
An alternate currency, Platinum Tinkerfest Cog is also a currency, but it is only granted for completing limited quests and used only to purchase the most valuable event items (e.g. certain mounts).
| | |
| --- | --- |
| | This article refers to events, personae and activities only accessable in-game during the annual Tinkerfest festivities that occur roughly from the end of July to early August. |
EQ2i credits this article at Census for the info in this article.
the last update on Census for this item was:
Tue, 04 Aug 2020 14:37:37 +0000
Community content is available under
CC-BY-SA
unless otherwise noted.